Resort Entry
During Winter Season, Resort Entry applies to every vehicle entering Mt Hotham Resort. Please refer to the Mt Hotham website for details and how to buy your pass online.
Snow Chains
Snow chains for your vehicle must also be carried during the winter season. These can be hired off the mountain at various locations including HOYS in Harrietville (the A-frame building on the river next to the bridge). If you say you are staying at Kongoola, you may get a discount. They will show you how to fit these chains and when to do so and also have a person on the side of the road who can fit them for you at the 'fit chains here' sign.
Bus to Hotham
Hoys Park 'n' Ride
Most popular option is Hoys Park 'n' Ride in conjunction with Snowball Express or the Alps Link bus service. Please visit: hoysskis.com.au or call 1800 467 669. Here you can securely park your car for one or more nights and travel by bus, a 45 min-1 hour ride to Mt Hotham.
Alps Link from Bright to Omeo via Harrietville
Alps Link is a PTV service operated by the Dyson Group. Alps Link runs from Bright to Omeo via Harrietville, Mt Hotham, Dinner Plain and Cobungra. If you have any questions, please call Dysons Bairnsdale during business hours (9am-5pm) on 03 5152 1711. Visit: dysongroup.com.au/alps-link
Private charter with Alpine Spirit Coaches
This is a direct and flexible way to travel in style to and from Mt Hotham or Falls Creek. We tailor the pick up and drop off times according to your needs. We can accommodate up to 6 pax in our luxury 4WD vehicles and up to 10, 13 or 24 in our minibuses. Email us at office@alpinespirit.com.au or give us a call on 035752133. Visit: alpinespiritcoaches.com.au
For travel to and from Melbourne
There is the Vline public transportation system that will take you to Myrtleford or Bright where you can connect to a bus service. Visit: vline.com.au
Unloading Area
An unloading parking area is located opposite the Jack Frost Bus Stop. Kongoola has an over-snow luggage sled to move your food, bags, skis, and boards from the unloading car park to our front door.
Alternatively, you can also utilise Hotham Snow Tow (from Jack Frost) to transport you and your gear to the lodge. Call: 0408 516 162
On Mountain Parking – Overnight & Long Term
Overnight and long term car parking begins approximately 1.0km from the front door of Kongoola. The regular shuttle bus service picks up and delivers those parking or picking up their vehicles.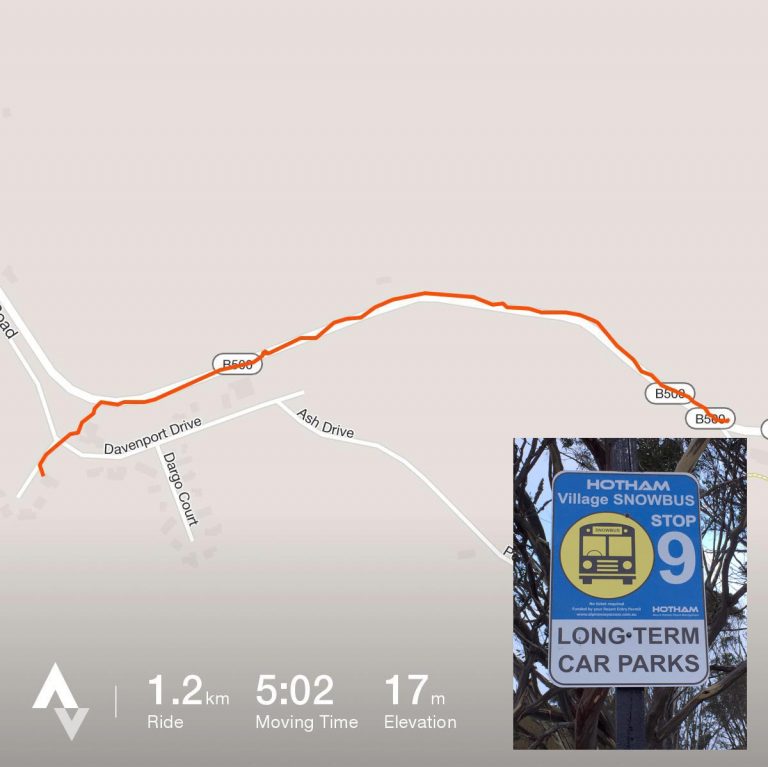 Off Mountain Parking – Harrietville
Hoys Harrietville Ski Centre offers security car parking off mountain and bus and taxi bookings to complete your trip to Mt Hotham.
Phone Hoys: 1800 467 669 or 03 5759 2589
email: info@hoysskis.com.au
Davenport Village – Kongoola
Conveniently located with easy access to ski hire, lift tickets, restaurants, bars, supermarket and village transport.
Kongoola Ski Access
A short 200m walk or ski has intermediate level skiers and boarders dropping onto the Davenport Access Track via Frosty Drop on the opposite of the Harrietville to Omeo Road.
The General (Store & Hotel)
A Hotham Icon and a great place for apres skiing, dinner or to pick up some supplies, 'The General' (Store and Hotel), is a short 300m walk or ski from the front door of Kongoola.
Directions
1 Gallows Court, Davenport Village, Hotham Heights, Victoria, 3741